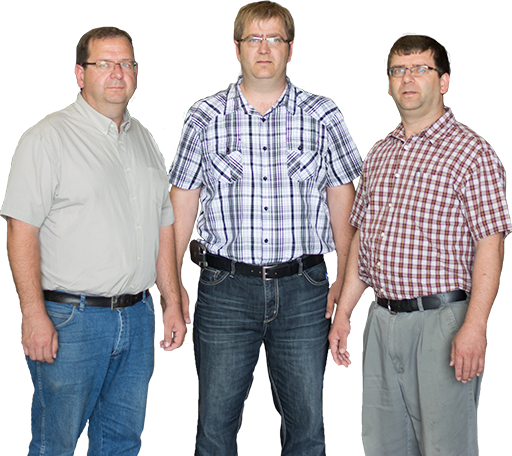 General Metal is an innovative producer of specialized equipment in the agricultural, industrial, commercial and medical fields. By listening to you and using progressive technology General Metal is constantly improving and growing to address your present and future needs. With a well-trained and dedicated team of employees we strive to offer the best products into the marketplace today.
General Metal Fabrication Ltd. had its beginnings in 1985 when Lester Bauman purchased a small welding shop with a vision to provide welding services to the surrounding agricultural and industrial community.
General Metal Fabrication Ltd. was blessed to be a part of a community that was experiencing rapid growth from new industries and manufacturers, either by relocation or expanding their present business. This growth allowed General Metal the opportunity to grow to meet the requests of a diverse and progressive farming industry and develop a strong customer base.
Built on the platform of the Golden Rule "Do unto others as you would have them do unto you" – inspired a commitment to meet and exceed our customers expectations.
We're always ready to listen to our customers ideas and willing to accept new challenges as an opportunity to improve. Our companies expertise and service has made us very diversified in what we offer to our market.
Today we are equipped to provide services for all of your metal related needs, whether it is a custom project or a production run involving machining, fabricating or welding. Please view our services tab to see the scope of our shops offering and capabilities.
Our commitment is to utilize our fully equipped plant, together with qualified staff, to help you complete your business's goals.
Our Team

Walter Dueck

Operations Manager

Jake Wall

Account Manager

Bryan Loewen

Account Manager / IT

Daniel Pfeif

Purchasing

Herman Giesbrecht

Project Estimator / Customer Service Manager

Ben Friesen

Shipping and Receiving Supervisor

Bill Janzen

Welding Shop Supervisor

Henry Peters

Paint Shop Supervisor

Jake Thiessen

Health and Safety Coordinator

Pedro Thiessen

Custom / Repair Supervisor

Kornie Becker

Machine Shop Supervisor